Peritoneal dialysis waste products disposal for medical centers
The ISS (Integrated Sterilizer and Shredder) is a steam sterilizer with an integrated shredder and sterilization chamber intended for the treatment of biohazard waste in small clinics, medical centers, hospital departments, and dialysis centers.
Celitron's compact hazardous medical waste solution complies with EU and WHO recommendations.
The ISS performs both waste shredding and steam sterilization in a single vessel. The vessel is fitted with a motor-driven shaft with powerful shredding / crushing blades which can rotate in two directions inside the vessel to reduce the size and volume of the waste.
The following types of hazardous medical waste can be processed in the ISS:
Syringes
Dialyzers
Scalpels
Small textiles (max. 20% per load)
Tests
Complete sharps containers
Leftovers from the patients' meals
Other hazardous biomedical waste
Our medical waste shredder includes the following features:
sterilization chamber
Built-in steam generator
Automatic door locking and door opening mechanism
Drain box for evacuation of sterilized liquids
Bio filter for pre-sterilization evacuation of all gases from the contaminated chamber
Two temperature sensors, one in the bio filter and one in the chamber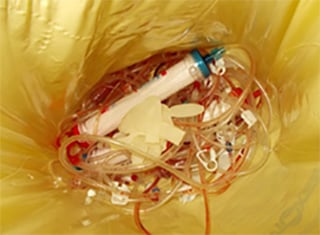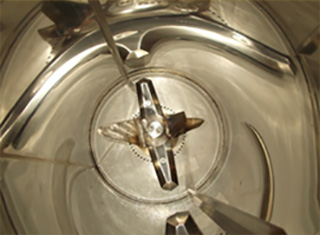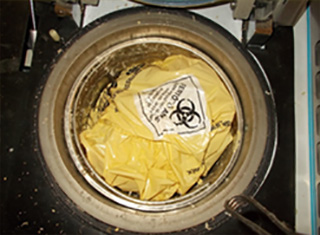 Why is the ISS especially recommended for dialysis waste products' disposal?
The ISS 25L can easily shred and sterilize potentially infectious dialysis waste. With its chamber capacity of 25 liters, the unit is recommended for the treatment of small amounts of medical waste.
Dialysis meaning and defintion - how we take care of its waste removal
Dialysis is a procedure that removes waste and surplus water from the blood. It is primarily used as an artificial replacement for a missing kidney in people suffering from renal failure. It may be given to those who have an acute renal disturbance or in the case of chronically diminishing renal functioning.
Dialysis performs the functions of absent or inactive kidneys. One of the most important renal functions is to regulate fluid balance in the body. This is done by adjusting the volume of urine that is excreted. In hot weather, the body loses more water through perspiration and therefore less water needs to be excreted via the kidneys. In cold weather, the body perspires less, thus it retains more excess water, and the kidneys adjust urine output accordingly.
Dialysis may enable patients to live productive and useful lives, despite their kidneys no longer working properly. In 2007 around 389,000 people were receiving dialysis in the USA. At the end of 2009 over 871,000 patients were undergoing treatment for end stage renal disease. (Source: https://www.medicinenet.com) 
An immense amount of waste is generated in dialysis centers – used dialysis tubing, solution bags, silicone tubes, needles, etc.
The proper disposal of infectious waste is a serious problem. Waste that is improperly disposed of can harm medical staff and also the environment.
Celitron offers compact solutions for dialysis centers to neutralize their hazardous medical waste by converting it to municipal waste.
Read more about the ISS »